Classy and confortable, minimalist heeled sandals are the stars of the summer season! Simple, with straps, fringes, tassels… To stay chic day and night, follow this guide, we'll tell you all about the sandals for your summer.
Thinking of simple shoes that give a killer foot, we summon the minimalist heeled sandals! As chic as they are sober, they are the perfect shoes to shape your leg with class and distinction. Not only to they go with everything, but also with every occasion. A simple heel, a strap at the front of the foot and one around the ankle… It's all you need to look good this summer!
In terms of style, you only have to choose: square heels or stiletto heels, large or super thin straps, funky prints or texture plays… we just want to buy them ALL. Colour-wise, black will be your super classic option, always a winner, but you should feel very free to go for colours and prints. What to wear it with? What style to choose? Follow the guide…
With a dress or a skirt
The most simple and chic solution is of course to pair your strappy sandals with a dress or a skirt! Skater, straight, A-line, long, slanted… You choose what suits you better: strappy heeled sandals go with all those styles.
Ideal for nights out, weddings, ceremonies… it's kind of impossible to make a faux pas with these minimalist sandals at your feet: A nice leg and a strong look without overdoing it. What else ?
With trousers
The other item that goes wonderfuly well with heeled sandals is the trouser. But not any pair: flare jeans, three stripe joggers, bootcuts and other super tight leather jeggings can stay in your wardrobe, their fits are not adapted to such classy shoes.
With strappy sandals there is only one rule: Always clear your ankles so as to not cut the silhouette.! You can count on straight crops, slanted tapered chinos, rolled up boyfriend jeans or smart casual skinny jeans. For the evening, pop out your tuxedo suit: the result is always stunning!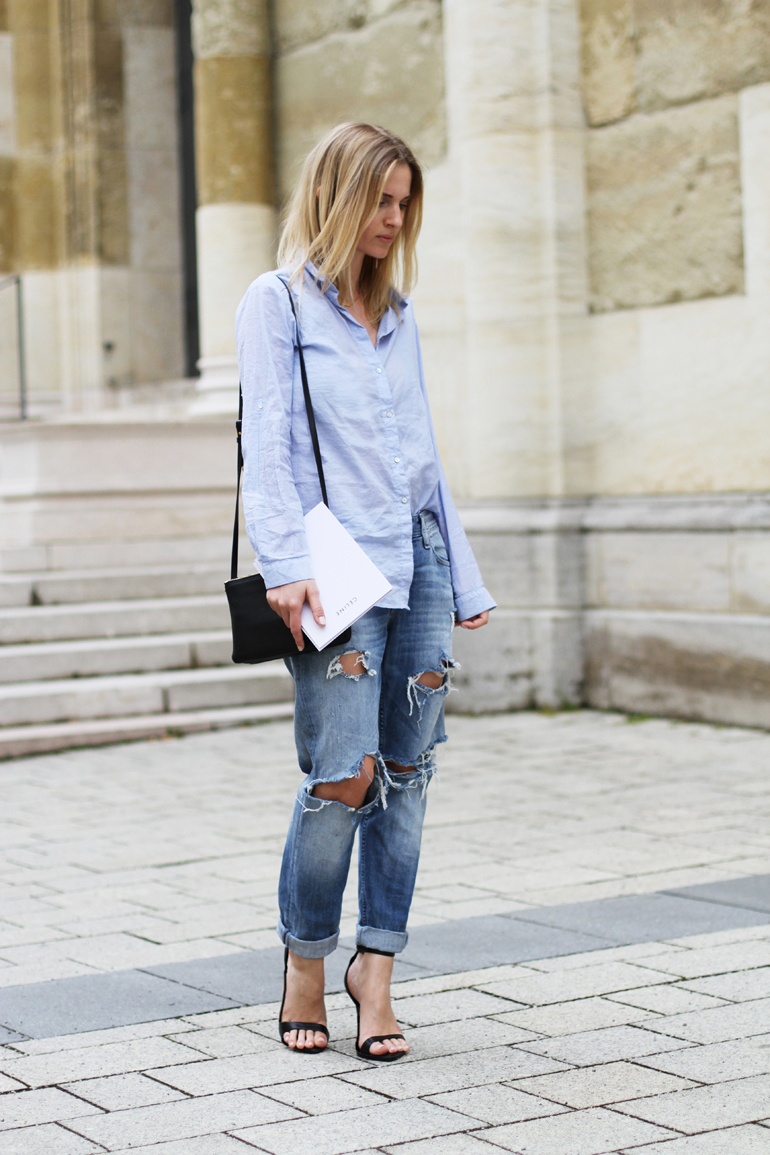 With shorts
The last combo is more unexpected but no less classy. Yup, even shorts go wonderfully with these sophisticated shoes! If it looks casual with block sandals or high spartan sandals, it takes a whole other dimension with pretty pared down heels. I mean, look at the outfit below! Pretty great isn't it?
Paired with a nice top, your sandals will transform your favorite shorts into a  sophisticated outfit, which is quite convenient when you can't be bothered to wear a dress or a skirt.
You see, if looking chic with minimal effort is an art, you too can master it. And now that you know all about the assets of the minimalist sandals, all you need to do is find a pair that will be your best ally. Enjoy!