If wedding season hasn't officially started yet, we can bet a few of you have one or two weddings to attend this Spring season. And you can completely understand your friends for choosing this time of year. After all, what better time to seal the deal? Flowers are blooming (as opposed to burned), the grass is green (as opposed to burned), birds are singing (as opposed to hiding in the shade), temperatures are nice and mild (as opposed to scalding) so you can wear your pretty dresses without sweating disgracefully – That's right SUMMER, we're looking at you. 
The time is just right to get your prettiest wedding outfit out; the one that allows you to layer up a tiny bit (you wouldn't want to leave that superb cashmere cardigan in the back of your wardrobe would you?) but not too much (you also wouldn't want to hide that sumptuous dress under a big coat); the one that'll follow you from the ceremony in the park to the reception in the hall.
It may be your friend's big day, but for you it's one heck of an exciting sartorial occasion. And if you don't already have the right pieces, or if you're lacking inspiration on how to wear or accessorise them, we've put together a few outfits in different styles to help you out. Empty wardrobe? We have a wonderful Boden Discount Code to help you find the perfect pieces without emptying your wallet (after all, when wedding season does start there'll be plenty more shopping to do!)…
Colours and florals for a bohemian wedding
Upbeat bohemian wedding in sight? Good thing lace, frills and embroidery are totally in this season! Don't hesitate to wear these embellished pieces on top and bottom, and pair with laced heels, a cute little raffia clutch and some toroiseshell sunglasses.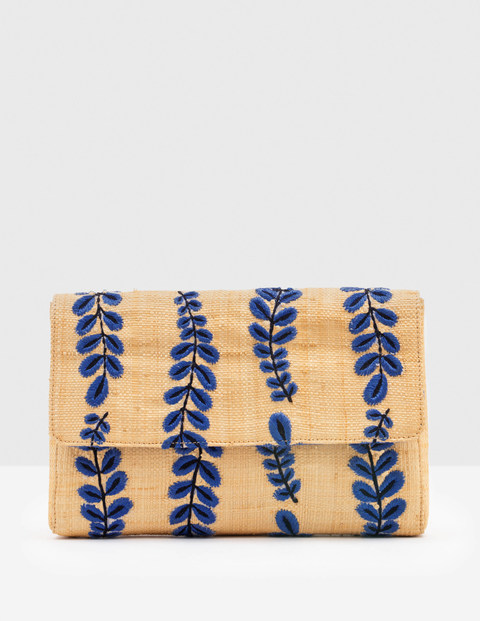 When wearing several colours like on an embroided skirt, remember to have hints of those colours elsewhere on your outfit. We love that the red shoes hint to the red details on the embroided skirt! For a maximum effect, pair with a matching lipstick. We would recommend consulting other guests and the bride to scan what others are wearing: no standing out more than the bride! But if the watchword is "joy & colours", go for it 🙂
Small heels to be kind to your feet
Because you will be standing – and dancing – for a good part of the day, be king to your feet. Sky-high heels may make your legs look great, but after a few hours there's a good chance you will have to operate that awkward shoe change to your ballet pumps (not to mention, you'll have to carry a bag big enough to contain shoes), or be doomed to sit the evening out (worst even, to go bare-foot and risk loosing a toe to crazy swingers!). Small heels are now completely acceptable in the fashion world, and you will find loads of pretty models that'll perfectly complement a flowy dress.
We love this silver number that you can definitely wear with a touch of bright colour such as this green crossbody bag. Keep it solid on the dress to go for the colour block effect, or wear a floral print dress which'll go wonderfully with small silver heels (in this case go plain on the handbag with dark or tan leather). For a small cover up opt for a beige or nude pink cardigan.
A wedding in trousers
Skirts and dresses are not the only option, believe it or not! Especially with the rise of pantsuits as acceptable occasion wear, you can definitely pull off trousers for a wedding. Just stick to soft pastel colours and clean, well tailored cuts (nobody said jeans here!).
Tip: wedges are a confortable way to add height! Add feminity with a lace top, and stay in those nude pastel tones for a romantic and confortable look. If you wish to add a brighter touch of colour, keep it solid and complementary; for example opt for a handbag with a loose sloucy cut, as you don't want to seem like you are going to the office!